Ethiopia is a land steeped in ancient history, culture, and natural beauty. As the birthplace of ancient Christianity and the cradle of mankind, it is a country of immense significance.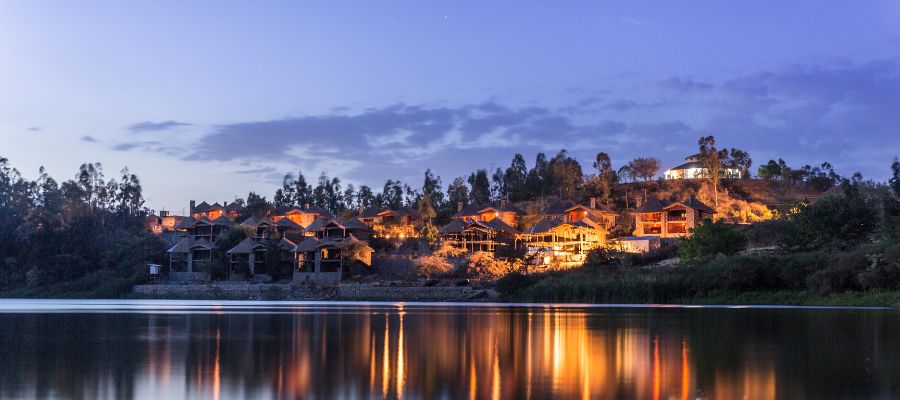 Despite this, it remains largely undiscovered by tourists, making it an exciting and authentic destination to explore. From the bustling capital city of Addis Ababa to the rugged mountains of the Simien range, Ethiopia is a country of striking contrasts.
It is home to vibrant markets, incredible wildlife, and a rich culinary tradition. Whether exploring its ancient rock-hewn churches or sipping coffee in a traditional cafe, Ethiopia is a destination that is sure to leave a lasting impression.
Reasons to Consider Visiting Ethiopia:
Ethiopia's climate is diverse, ranging from mild mountainous areas to scorching heat in the Danakil Desert. The desert's Dallol volcano is a popular tourist spot, featuring surreal colors and alien-like salt formations. Ethiopia's nature is also varied, including rainforests, savanna, and deserts.
The country has a rich cultural heritage, including honoring Russian poet Pushkin in Addis Ababa and the ancient rock-hewn churches in Lalibela. Ethiopia is home to many ethnic groups, with over 60% professing Christianity.
The Omo River Valley is home to authentic tribes with primitive customs, such as the Mursi tribe and their lip plates, which have been preserved due to Ethiopia's lack of colonization.
The Birthplace of Coffee: Exploring Ethiopia's Rich Coffee Culture
Ethiopia's coffee culture is an integral part of everyday life, with a traditional coffee ceremony called "buna" held in coffee shops. The country offers unique and exciting natural and historical sites, making it an ideal destination for those seeking new experiences.
Activities include bamboo canoe rafting, feeding pelicans, and exploring rock temples in the mountains near Havzen. Comfortable hotels are mostly found in major cities, with most five-star hotels located in Addis Ababa. When visiting remote areas, travel agencies often provide tent camps with amenities.
Exceptional Accommodations: Experience Ethiopia's Top Hotels and Resorts
Hotels in Ethiopia vary between private and public ownership, and state-owned hotels for foreign tourists may not offer the best value. Private three-star hotels are often cozier and cleaner with better kitchens.
Room prices fluctuate depending on the season. Ethiopian hotels have a unique local flavor, even those at the European level. Some hotels in Ethiopia attract visitors with their unusual features, such as the Itegue Taitu Hotel, Kuriftu Resorts, Harbe Hotel, La Residence Hotel and Spa, Safari Lodge Adama, African Village, Lodges of Ethiopia - Back to Nature, Simien Lodge, Babogaya Lake Viewpoint Lodge, and Gheralta Lodge.
1. Itegue Taitu Hotel: A Historic Gem in the Heart of Addis Ababa
The Itegue Taitu Hotel 3* is the oldest hotel in Ethiopia, founded in 1898 during the reign of Emperor Menelik II and his wife Taitu Betul.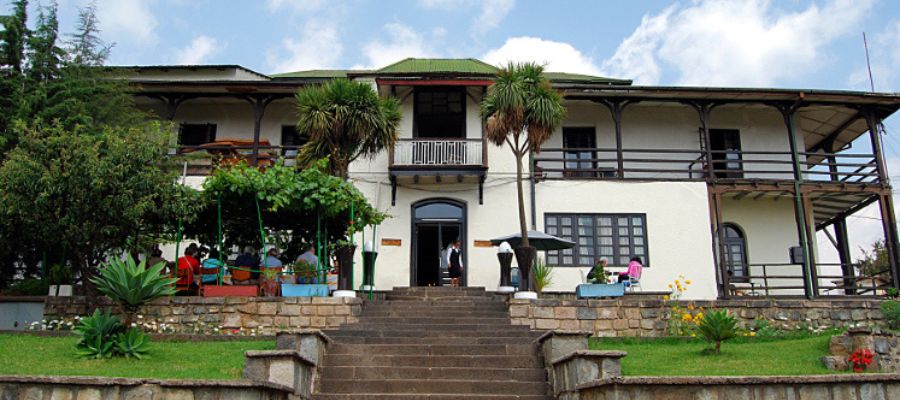 The hotel is located in Addis Ababa and has a special magnetism due to its historical colonial-style building and furniture, which survived a fire in 2015.
The interior design is colorful, and the Ethiopian cuisine is good, but the comfort is minimal. Despite this, many tourists return to the hotel when visiting Ethiopia.
2. Kuriftu Resorts: Luxury Spa and Wellness Getaway in Stunning Locations
Kuriftu Resort@Spa is a unique 4* hotel in Bahr Dar with authentic national-style design and comfortable rooms, each with a fireplace on the balcony. It also has a great spa center and a boat dock on the shore of Lake Tana.
The Debra Zeyit location offers stunning bungalows on the shore of Lake Bishoftu, kayaking, and excellent service. Spa hotels are becoming increasingly popular throughout Ethiopia, offering great services to tourists.
3. Harbe Hotel: Contemporary Comfort in the Bustling City of Addis Ababa
The Harbe Hotel 3* in Lalibela has 16 rooms and a unique roof terrace with stunning views of the city and mountains. Visitors enjoy the sunset while sitting in comfortable chairs and drinking coffee.
The hotel also offers dinner on the terrace, with a local Ethiopian chef cooking on a barbecue. Booking this hotel is a great way to meet the Ethiopia visa requirements for proof of accommodation.
4. La Residence Hotel and Spa: Boutique Luxury in the Heart of Ethiopia's Capital
La Residence Hotel and Spa 4* in Adama features Moroccan-style architecture with a snow-white building floating above a green garden.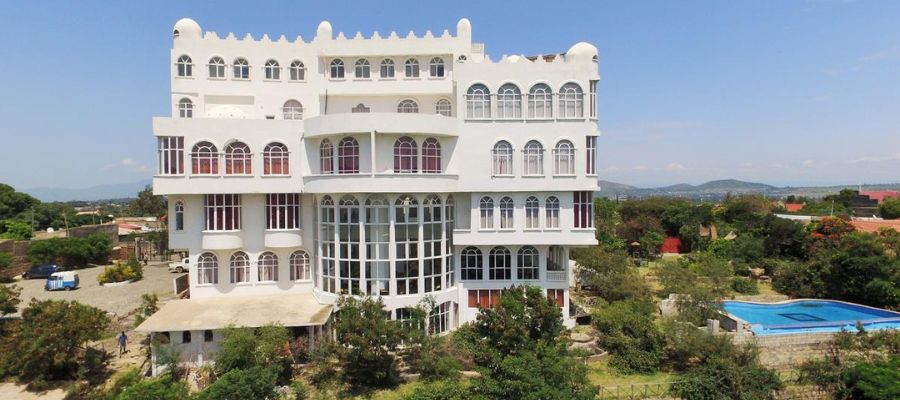 The interior design follows the same style with a combination of white, red, and black colors, and four-poster beds. The rooms have a feeling of airiness with high "pointed" windows.
5. Safari Lodge Adama: A Serene Escape Amidst Nature and Wildlife
Safari Lodge Adama 4* is another hotel in Adama with 17 rooms, famous for its Luxury Tower by the pool, offering a spectacular view of the Great Rift Valley.
The hotel is surrounded by fruit trees, giving off a pleasant aroma of mango, lime, and orange. The rooms are comfortable, furnished with natural materials such as rattan, cedar, and bamboo.
6. African Village: Traditional Ethiopian Hospitality in a Picturesque Setting
African Village 3* in Dire Dawa is a unique hotel designed like an African village, with rooms located in huts featuring bamboo furniture and courtyards. The hotel also has parrots and monkeys for a complete experience.
Despite its rustic design, the service and food are of high quality, making it a popular choice for tourists visiting Dire Dawa, the second-largest city in Ethiopia. Visitors come to admire the beautiful nature and ancient cave paintings dating back to the 3rd millennium BC.
7. Lodges of Ethiopia - Back to Nature: Sustainable Eco-Lodges Amidst Ethiopia's Natural Beauty
Ethiopia has a range of eco-lodges that provide sustainable accommodation amidst the country's natural beauty. These lodges are designed with minimal environmental impact in mind and offer guests an authentic and immersive experience. They often use natural materials and employ local staff, supporting the local economy.
These lodges are located in some of Ethiopia's most stunning locations, including national parks, wildlife reserves, and mountain ranges.
8. Simien Lodge: Breathtaking Mountain Views and Wildlife Encounters
Simien Lodge is located in the Simien Mountains National Park and is the highest and only lodge within the park. The lodge, designed with 20 tukel huts, is owned by a Danish entrepreneur and offers comfortable rooms with heating and electricity powered by solar panels.
The lodge also arranges trips to the national park, where visitors can enjoy incredible landscapes and encounter endemic animals and birds, including the Gelada monkeys known for their remarkable appearance with a bright red spot on their chest.
9. Babogaya Lake Viewpoint Lodge: Tranquil Lakeside Retreat in Ethiopia's Rift Valley
There is a noteworthy lodge in Debre Zeyit that commands attention. Nestled on the shore of a scenic lake that emerged from an ancient crater, Babogaya Lake Viewpoint Lodge beckons visitors with its rustic charm.
Traditional African-style homes with thatched roofs on stilts dot the waterfront, creating an ambiance of a bygone era, far from the bustling city.
The lodge offers comfortable accommodations, with ample amenities. Guests can indulge in a plethora of water activities such as swimming, fishing, and canoeing in the tranquil lake. The picturesque setting and the cozy abode make for an unforgettable retreat.
10. Gheralta Lodge: Rustic Charm and Cultural Exploration in Ethiopia's Historic Tigray Region.
Gheralta Lodge is a unique and popular accommodation near Hawzen. Its stone oval buildings with grassy roofs provide a primeval ambiance that is enhanced by the stunning mountain views.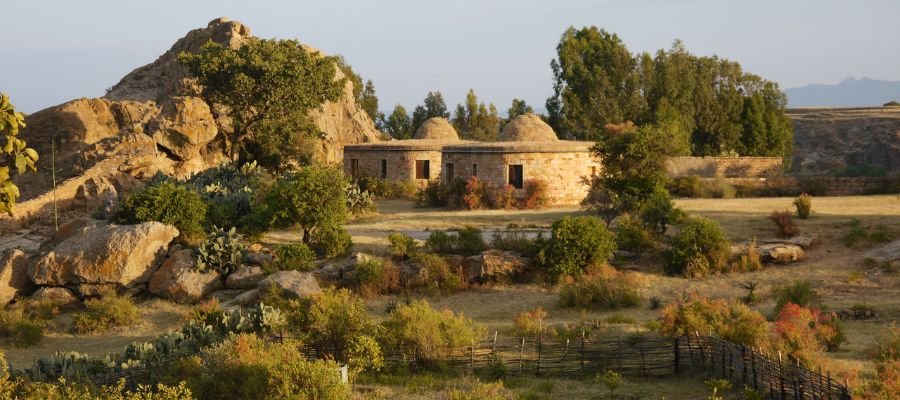 The area features rock temples with unique architecture, ancient manuscripts, and paintings, the most popular being Abuna Yemata Guh. It's a challenging climb to the temple, located at an altitude of 200 meters. The lodge's rooms are modern, and the facility is managed by the Italians Rizzotti.

11. Dorze Lodge
Dorze Lodge is situated on a mountain near Arba Mync and provides breathtaking views of Nechisar National Park, Chamo, and Abaya Lakes. The lodge features huts modeled after the homes of the local Dorze people, with furniture crafted by local artisans.
The lodge also boasts a beautiful garden, a large area for evening fires, and folk dances performed by the Dorze for a fee. The lodge offers guided tours to the Dorze village and serves excellent European and Ethiopian cuisine.
Visitors can enjoy a unique experience in pristine natural surroundings, though amenities such as water and electricity may be intermittent. Ethiopia is a destination worth exploring to immerse oneself in its natural and cultural beauty.