The rules and requirements for Ethiopian visas outline the essential criteria and regulations that foreign travellers must adhere to when applying for and obtaining a visa to visit Ethiopia. Understanding these rules and requirements is essential for travellers seeking entry into Ethiopia, ensuring a smooth and compliant visa application process in accordance with Ethiopian immigration laws and policies.
Visa requirements for Ethiopian citizens
Ethiopia
Visa free access
Visa on arrival
eVisa
Visa available both on arrival or online (e Visa)
Visa required
Entry Requirements for Ethiopia
Foreigners planning to visit Ethiopia must adhere to specific entry requirements. These requirements are designed to ensure a smooth and legal entry into the country. They encompass the following key components:
Travellers must possess a passport that is currently valid. It is crucial that the passport has sufficient validity beyond the intended date of arrival in Ethiopia. This is typically specified as a requirement of at least six months of validity remaining.
Obtaining an Ethiopia visa is imperative for foreign visitors. Fortunately, the process has been streamlined through the option of applying for the Ethiopian e-Visa online. However, this method is only available to those who meet the necessary criteria.
Eligible tourists can apply for the Ethiopian e-Visa through an online platform. The approved visa permit will be sent to the applicant via email, making the application process convenient and efficient.
For a comprehensive understanding of Ethiopia visa requirements, including any specific regulations related to passports and additional supporting documents, travellers are encouraged to consult the relevant information provided on this page.
Document Requirements for the Ethiopian eVisa
Applying for the Ethiopian eVisa entails gathering specific documents to complete the application process successfully. These essential documents are as follows:
Valid Passport: The primary document required for the eVisa application is a passport that meets Ethiopia's validity requirements. This means the passport should have at least six months of validity remaining beyond the planned date of arrival in Ethiopia.
Biographical Page Image: Travellers are requested to provide an electronic image of the biographical page of their passport. This page typically contains personal information such as the traveller's name, date of birth, and photograph.
Recent Passport-Style Photo: Along with the passport image, applicants must submit a recent colour passport-style photograph. This photo is used for identification purposes.
Debit or Credit Card: To cover the eVisa fees, applicants need a valid debit or credit card. This financial instrument facilitates the payment process and is essential for the successful submission of the eVisa application.
Passport Requirements for the Ethiopian eVisa
When applying for the Ethiopian eVisa, it's of utmost importance to ensure that your passport complies with the specific requirements set by Ethiopian authorities. These passport requirements include: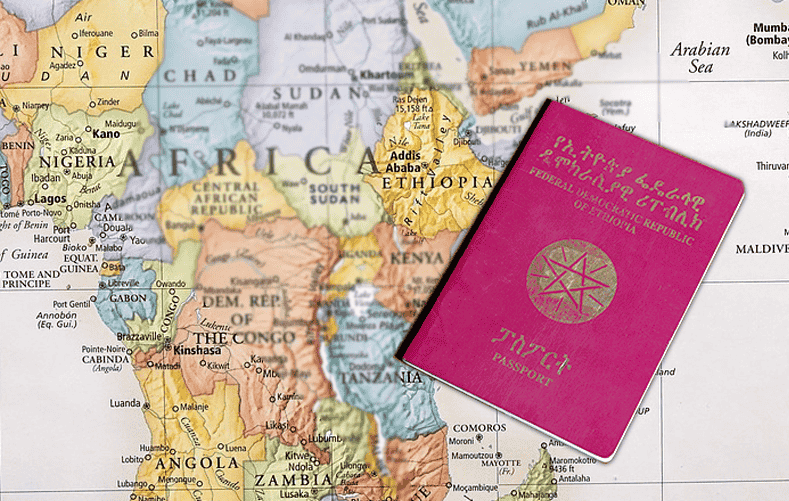 Your passport should have a validity period of at least six months beyond your intended date of arrival in Ethiopia. This means that if you plan to enter Ethiopia on a specific date, your passport must remain valid for at least an additional six months beyond that date.
Your passport must contain a minimum of two blank pages. These blank pages are necessary for visa stamps and immigration officials to affix necessary entry and exit stamps.
Eligibility of Issuing Country
The passport must be issued by a country that is eligible for the Ethiopian eVisa. Not all passports from all countries are eligible, and it's essential to verify your country's eligibility before applying.
Information Needed for Completing the Ethiopian eVisa Form
Applicants seeking the Ethiopian eVisa are required to complete an online application form that collects specific personal and passport-related details, as well as travel information. The information requested includes:
Full Name and Date of Birth: Applicants must provide their complete legal name and date of birth as indicated in their passport.
Nationality: Indicate your nationality accurately, as it must match the nationality specified in your passport.
Passport Number, Issue Date, and Expiry Date: Essential passport details, such as the passport number, date of issue, and date of expiry, must be accurately entered.
Contact Information: Travellers need to provide their contact information, which may include email addresses and phone numbers for communication regarding the visa application.
Health and Security Information: The application may request information related to health and security. This could include questions regarding vaccinations, travel history, or any potential security concerns.
Vaccination Requirements for Ethiopia
While not all vaccinations are mandatory for entry into Ethiopia, travellers are strongly advised to consider getting certain vaccinations before visiting the country. These recommended vaccines are crucial for maintaining personal health and preventing the spread of diseases.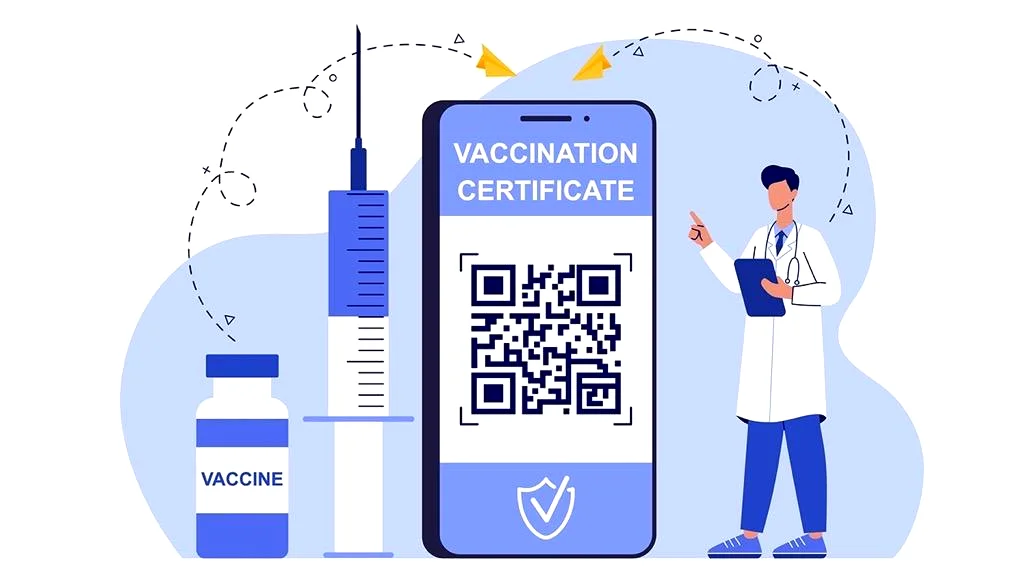 The vaccinations that are highly recommended for travellers to Ethiopia include:
(Hepatitis A and B), typhoid fever, cholera, yellow fever (required for some regions), rabies, meningitis, polio, MMR, Tdap, chickenpox, shingles, pneumonia, and influenza. Getting vaccinated not only safeguards individual health but also contributes to public health safety while travelling internationally. Staying informed about these vaccination requirements is essential for a safe and healthy travel experience.
Ethiopia e-Visa Eligible Countries
The Ethiopian eVisa is accessible to passport holders from all countries around the world. However, there are specific eligibility criteria that travellers must meet to obtain this electronic visa:
Passport Validity:To apply for the Ethiopian eVisa, your passport must have at least six months of validity remaining from the date of your planned arrival in Ethiopia.
There are two exceptions to the eVisa requirement:
Kenyan Citizens: Kenyan citizens can enter Ethiopia without a visa for stays of up to one year.
Djibouti Citizens: Citizens of Djibouti can enter Ethiopia without a visa for stays of up to three months.
Documents for Travelling to Ethiopia
After successfully obtaining the approved Ethiopia eVisa, travellers must ensure they have the necessary documents for a smooth entry into the country. These documents include:
Printed eVisa: Travellers must have a printed copy of their eVisa approval to present at the border control upon arrival in Ethiopia.
Port of Entry: It is essential to arrive at Addis Ababa Bole International Airport, as this is the only valid port of entry for eVisa holders.
Matching Passport: The passport used for the eVisa application must match the one presented during travel. It's crucial to ensure consistency in passport details.
FAQS
What are the basic requirements for obtaining an Ethiopia visa?
To obtain an Ethiopia visa, you need a valid passport with at least 6 months of validity beyond your planned arrival date, a recent colour passport-style photo, and a debit or credit card for eVisa fees payment. You'll also need to fill out an online application form with personal and passport information.
How can I apply for an Ethiopia visa?
You can apply for an Ethiopia visa online by meeting the eVisa requirements and completing the online application form. Once approved, you'll receive the visa permit by email.
Can I use an Emergency Travel Document (ETD) for entry into Ethiopia?
In most cases, Ethiopian authorities recognize ETDs, but it's essential to check with your country's authorities regarding their acceptance.
Are there any specific passport requirements for the Ethiopian eVisa?
Yes, your passport must have at least 2 blank pages and be issued by a country eligible for the Ethiopian eVisa.
What information do I need to provide when filling out the Ethiopian eVisa form?
You'll need to provide your full name, date of birth, nationality, passport number, issue date, expiry date, contact information, and health and security information. Accuracy in providing this information is crucial to avoid delays or denials.
Can I work or volunteer while holding a tourist eVisa for Ethiopia?
No, the tourist eVisa for Ethiopia does not permit you to work or volunteer in Ethiopia. Violating these regulations could lead to fines or other penalties.