Ethiopia is a beautiful country located in Africa, and is the Horn of Africa's largest and most populous country. It became landlocked after Eritrea seceded in 1993.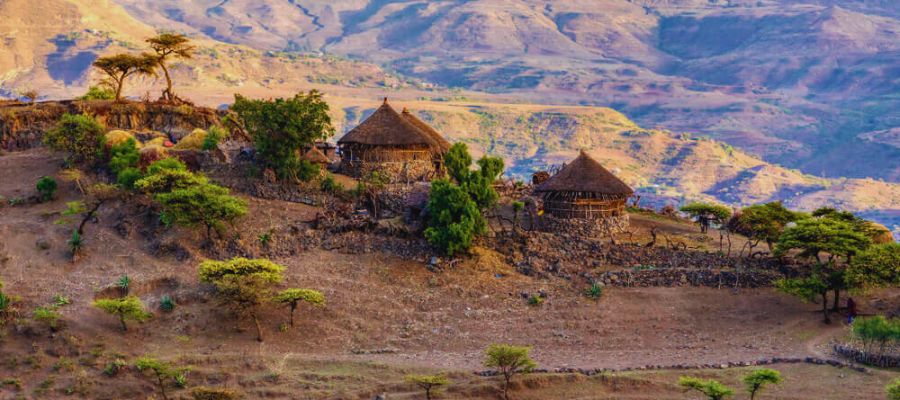 Ethiopia has a long history of changing borders over millennia and was once centered on Aksum. Ethiopia rose to prominence in modern international affairs after defeating colonial Italy in the Battle of Adwa in 1896.
Ethiopia was one of the first sovereign states to sign the United Nations Charter and lent support to Africa's decolonization. Addis Ababa is the country's capital and is where the Organization of African Unity and the United Nations Economic Commission for Africa are headquartered. Now, let's get started with finding hiking trails in Ethiopia.
What to Pack for Hiking in Ethiopia: A Guide for Four Destinations
If you are planning to go hiking in Ethiopia, it is important to pack the right gear and equipment to ensure a safe and enjoyable trip. The specific items you need will depend on the destination you are heading to, but here is a general guide for four popular hiking spots in Ethiopia:
Dinsho
Dinsho is a settlement in Ethiopia's south-central region, located in the Bale Mountains. Once a small village, it was relocated and has since grown significantly, with a new market site and tourist attraction, the Wolf's Den Cafe.
The town has a primary and secondary school, a health clinic, and two diesel-powered mills. There are two market days, one local and one larger, that draw people from up to 25 kilometers away. Dinsho has a mosque for the majority Muslim population and an earlier Christian church.
The Scandinavian-style lodge was built in the early 1990s to replace the old guest house. Bale Mountains National Park headquarters is located nearby, and the town was once a major location for Ethiopian wolf conservation efforts.
Simien Mountains National Park
Simien Mountains National Park in northern Ethiopia offers some of the best hiking trails in Ethiopia, with stunning views of the landscape and unique wildlife such as the Simien ibex, Ethiopian wolf, and Gelada baboon.
The high plateau at 3600 meters above sea level is covered in grasses, solitary trees, and Giant Lobelia, while the escarpments offer precipitous rocks and steep canyon-style gorges for natal observation points.
The ecosystem is the main attraction of the park, with rare and endangered species surviving despite severe habitat restrictions over the millennia. The park was established in 1969 and designated as a UNESCO World Heritage Site in 1918.
Gondar
Gonder is a historic city in northwest Ethiopia, situated at a height of 2,300 meters atop a basaltic mountain with streams running to Lake Tana. It was Ethiopia's capital from 1632 to 1855 and has ruins of castles and palaces built by emperors.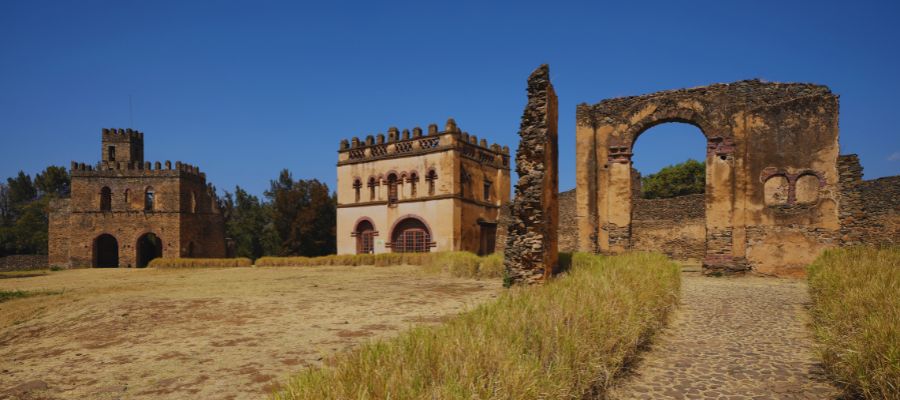 The most noteworthy structures are the fortress of Fasilides and the palace of Iyasu the Great, showing strong Portuguese influence and connections to the palaces of the Aksumite dynasty and mosques in South Arabia.
Gonder remains an important center of the Ethiopian Orthodox church, and its 17th-century Debre Berhan Selassie Church is still in operation. The city is a major commercial center for cereals, oilseeds, and livestock, and artisans produce textiles, jewelry, copperware, and leatherwork. The city serves as a major traffic crossroads, has an airport, and has a medical university adjacent to a contemporary hospital that trains workers for rural clinics.
Great Rift Valley
If you have obtained your Ethiopia visa, the Great Rift Valley is a must-visit destination for hiking. The Ethiopian Rift Valley is part of the East African Rift and stretches southwest across Ethiopia. It is considered the best place for hiking in Ethiopia. The valley is around 80 kilometers wide and has major tectonic escarpments on both sides. The southern termination of the rift valley is still tectonically and seismically active. Tiny en echelon, right-stepping rift basins of Quaternary to recent age cut the rift floor. These basins are approximately 20 km wide and 60 km long. It is easy to find hiking trails in Ethiopia, so grab your bag and enjoy your trip!